"Reach Your Audience Effectively with Malayala Manorama Advertising Through Ads2publish"
Malayala Manorama is a famous newspaper that many people in Kerala like to read. It has been around for a very long time. They started it on March 14th, 1888, and began printing it in Kottayam on March 22nd, 1890. At first, they printed only a few hundred copies. It used to be a weekly newspaper that came out every Saturday, but now it's much bigger. They print more than 2.1 million copies, and over 20 million people in India and other countries read it. It's the biggest newspaper in Kerala, the third biggest in India, and the fourteenth biggest in the world. Malayala Manorama's main office is in Kottayam, and they have 19 places where they print the newspaper, including cities like Kozhikode, Thiruvananthapuram, Kochi, and others.
A Trusted News Source for Over a Hundred Years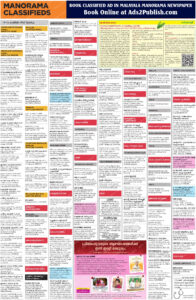 For more than a hundred years, Malayala Manorama has been a newspaper that people trust for news and information in Malayalam. They write about many different things, like news from the region, the country, and around the world. They also cover sports, entertainment, lifestyle, politics, astrology, technology, music, and travel. Because they write about so many different things, people of all kinds like to read it.
Advertise in Malayala Manorama Easily
If you want to advertise in Malayala Manorama, it's easy to do. You can use Ads2publish, which is a platform for advertising. They can help you reach the people you want to with your ads. You can advertise in different categories like for weddings, properties, businesses, computers, travel, and more. Special Days to advertise classified ads in Malayala Manorama: Matrimonial Ads are on every Sunday, Property Ads on Saturdays and Sundays, and Recruitment Classifieds work well on Wednesdays and Sundays.
How to Place an Ad in Malayala Manorama Newspaper
Here's how you can put an ad in Malayala Manorama using Ads2publish:
First, pick the category for your ad on the Manorama Advertisement Page.
Then, choose the city where you want your ad to appear in Malayala Manorama Newspaper.
Next, pick a date from the calendar for when you want your ad to be in the newspaper.
Write your ad. You can look at sample ads in Malayalam and English for help.
Finally, check how much it will cost and give them the details for your ad. You can pay with a credit card, debit card, Google Pay, PayTM, or by bank transfer.
Once you've done this, your ad will appear in Malayala Manorama, and they'll send you an email to confirm it along with a GST invoice.
Get Results with Ads2publish
When you use Ads2publish, you can make sure your ad in Malayala Manorama reaches the right people. This way, you can turn the newspaper's readers into potential customers for your business.