Boost Your Sales and Increase Visibility with Budget-Friendly advertisement in Mathrubhumi
A Historic Beginning:
Mathrubhumi, a Malayalam newspaper, has a special place in India's history. It was born during India's fight for freedom. On March 18, 1923, it published its first edition, just a day before the first anniversary of Mahatma Gandhi's arrest. Led by K.P. Kesava Menon, a prominent freedom fighter, as Editor, and K. Madhavan Nair as Managing Director, Mathrubhumi aimed to spread the message of India's great National Movement. Initially, it was a weekly newspaper with a single edition in Kozhikode (Calicut). Born out of the passion of freedom fighters, Mathrubhumi became a vital part of Kerala's society.
Expanding Reach:
Today, Mathrubhumi has grown significantly. It has sixteen editions, with ten in Kerala and others in New Delhi, Mumbai, Bangalore, Chennai, Dubai, and Doha. It reaches an impressive circulation of over 1.5 million copies. The newspaper is printed from 14 locations, both inside and outside Kerala, including Thiruvananthapuram, Kollam, Alappuzha, Kottayam, Kochi, Thrissur, Palakkad, Malappuram, Kozhikode, Kannur, Chennai, Bangalore, Mumbai, New Delhi, and Dubai.
A Trusted Name: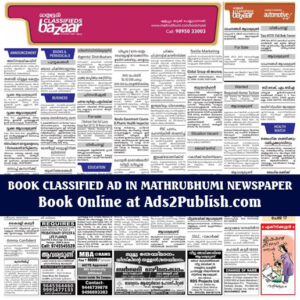 Mathrubhumi is not just a newspaper; it's a symbol of India's history. Its name, "Mathrubhumi," means "motherland" in Malayalam. As the second most widely read daily newspaper in Kerala, it continues to provide comprehensive news coverage.
Diverse Content:
Besides news, Mathrubhumi offers various magazines catering to different interests. It includes Grihalakshmi (for women), Chitrabhumi (for movie enthusiasts), Thozhilvartha (for job prospects), Mathrubhumi Sports Masika (for sports lovers), Balabhumi (for children), Mathrubhumi ArogyaMasika (for health), Mathrubhumi Yathra (for travel enthusiasts), Mathrubhumi Minnaminni (for kids), Mathrubhumi Chithrakatha (comics), "Mathrubhumi Year Book" (in Malayalam and English), and "Mathrubhumi Star & Style" (for celebrity lifestyle).
Mathrubhumi Classifieds Made Simple with Ads2publish
If you're looking to place classified ads in Mathrubhumi, Ads2publish is your go-to choice. Mathrubhumi, a well-known Malayalam newspaper, offers an excellent way to connect with a broad and engaged audience in Kerala and beyond.
Booking classified ads in Mathrubhumi has never been easier, thanks to our straightforward online booking process:
Step 1: Choose Your Ad Category :Select the category that best matches your ad's purpose, whether it's related to real estate, jobs, services, or any other category.
Step 2: Pick Your City or Edition: Specify the city or edition of Mathrubhumi where you want your ad to appear. This ensures that your ad reaches your target audience effectively.
Step 3: Compose Your Ad, Select Date, and Make Payment: Compose your ad with all the necessary details, keeping it concise and engaging. Then, proceed to make a secure online payment.
Ads2publish streamlines the process of placing advertisement in Mathrubhumi while ensuring that it fits comfortably within your budget. Whether your ad requirement for recruitment, real estate, matrimonial, business, education, or other categories, we offer competitive rates, making it cost-effective for advertisers of all kinds.
With a circulation of over 1.5 million copies and editions in various cities across India and the Middle East, Mathrubhumi provides extensive coverage. Whether you're looking to find the right candidate for a job, promote your business, sell property, or connect with potential life partners, Mathrubhumi's classified section is a potent tool to achieve your advertising goals. Trust Ads2publish to simplify the Mathrubhumi classifieds booking online process and help you reach your desired audience effectively.