Elevate Your Reach to a Vast Northern Indian Audience through an Amar Ujala Classified Ad with Ads2Publish!
In the world of media and communication that's always changing, Newspapers are still important for talking to many different people. In India, where there are many languages, newspapers in local languages are really important. Amar Ujala is a big example of this. It's a newspaper in Hindi and it's like a guiding light for Hindi news, connecting with lots of people in the northern part of India. Let's learn more about the journey of Amar Ujala, where it's available, and how you to give Advertisement in Amar Ujala using Ads2Publish.
Amar Ujala: A Pillar of Hindi Journalism
Founded in 1948 by Murari Lal Maheshwari and Dori Lal Agarwal, Amar Ujala has etched its legacy as a Hindi-language daily newspaper that resonates with readers from Uttar Pradesh, Uttarakhand, Himachal Pradesh, Jammu and Kashmir, Punjab, Haryana, and Delhi. Its foundation was rooted in the vision of spreading news and information in Hindi, making it accessible to a wider audience.
The newspaper has emerged as a trusted companion for individuals seeking insights into regional and national news, politics, education, culture, sports, entertainment, and more. The inherent connect of Hindi language, coupled with its extensive coverage, has solidified Amar Ujala's position as a preferred source of information in the northern states of India. Over the years, it has evolved into a dynamic platform that caters to a broad spectrum of interests.
Unveiling Amar Ujala's Reach
The strength of Amar Ujala lies in its reach across a myriad of states. With daily circulation spanning 22 editions and encompassing 180 districts in six states and two Union Territories, Amar Ujala's presence is formidable. This widespread coverage ensures that it serves as a conduit for the latest news, not only from the local regions but also from the broader national and international contexts. This unique vantage point positions Amar Ujala as a bridge between local happenings and global trends.
Ads2Publish: Pioneering Simplified Advertising
Amid the intricate tapestry of modern communication, the process of placing advertisements has undergone a transformative shift. In this era of digital connectivity, Ads2Publish emerges as a game-changer, specifically for Amar Ujala Advertisement landscape. As India's largest self-service online ad booking platform, Ads2Publish has redefined the way advertisers engage with Amar Ujala.
With a commitment to simplicity and cost-effectiveness, Ads2Publish acts as the conduit between advertisers and Amar Ujala's wide readership. It recognizes that your message deserves a platform that maximizes its potential reach and impact. The interface is designed to facilitate seamless interactions, ensuring that the journey from idea to execution is smooth and hassle-free. By offering competitive ad rates and a user-friendly experience, Ads2Publish is geared towards empowering advertisers to secure their advertising spaces in Amar Ujala without undue complexities.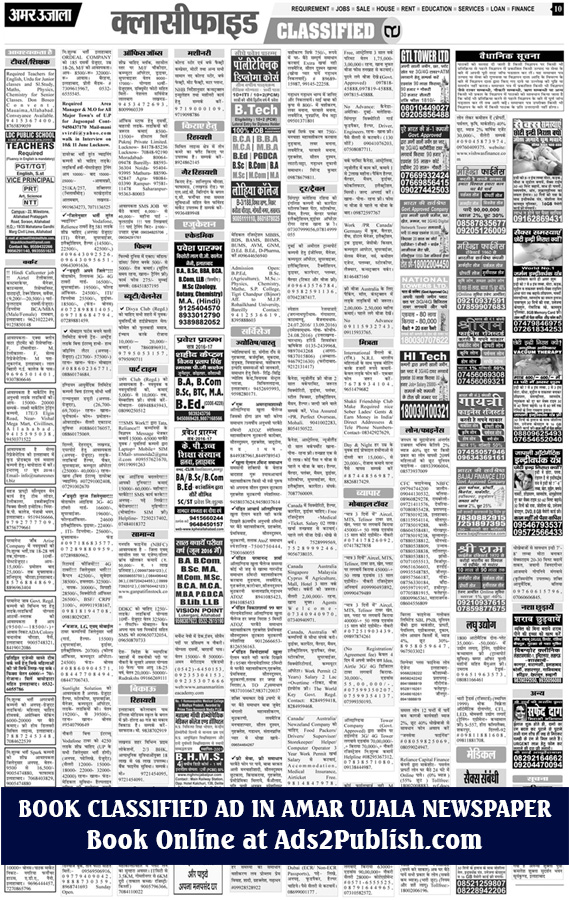 Amar Ujala Classifieds: A New Paradigm
Booking classified ads in Amar Ujala has been revolutionized by Ads2Publish. The process is now remarkably straightforward, enhancing accessibility for advertisers of all kinds. Here's a glimpse of the simplified process:
Step 1: Choose Your Classified Ad Category Select the category that aligns with your advertisement's purpose. Whether it's real estate, job listings, services, or any other relevant category, Ads2Publish ensures that your ad is placed effectively.
Step 2: Select the City or Edition Specify the city or edition of Amar Ujala where you intend your ad to appear. This precise targeting ensures that your message reaches the intended audience with precision.
Step 3: Compose Your Ad, Select Date, and Make Payment Compose a succinct yet compelling ad, utilizing the available space wisely. Once the content is ready, choose the publication date that suits your campaign's timeline. The secure online payment process ensures that your transaction is seamless and efficient.
Conclusion: Your Gateway to Northern India
In essence, Amar Ujala serves as a bridge that connects you with a vast audience in northern India. Its legacy of quality journalism, coupled with its expansive reach, makes it an invaluable platform for communication and engagement. Whether you're a business aiming to attract customers, an individual promoting an event, or an organization with a vital message, Amar Ujala's classified ads offer an avenue to connect with millions. By partnering with Ads2Publish, you unlock the potential of Amar Ujala, transcending geographical boundaries and engaging with the dynamic northern region of India.
Secure your advertising space today and embark on a journey of impactful communication, connection, and influence. Your message deserves a platform that amplifies its voice – and Amar Ujala, alongside Ads2Publish, is that platform. Elevate your reach, amplify your impact, and embrace the power of Amar Ujala's classified ads.