Unlock the Power of Effective Advertising with Ads2Publish for Daily Thanthi
Connecting with More People through Effective Advertising
Have you ever thought about how you can talk to a whole bunch of people at the same time? Well, Publishing Advertisement in Daily Thanthi through Ads2publish can help you do just that, no matter where those people are.
In the historic year of 1942, amidst India's fervent pursuit of independence, Daily Thanthi came into existence. The visionary behind this venture was none other than S. P. Adithanar. Over the years, Daily Thanthi has solidified its position as a pivotal newspaper catering to Tamil-speaking communities.
Fast forward to the present day, where countless individuals in Tamil Nadu and regions with a Tamil-speaking population engage with Daily Thanthi's content. The reach of Daily Thanthi extends not only across various parts of India but also encompasses international locales where Tamil holds its significance. To ensure accessibility, Daily Thanthi is printed across 16 different locations in India, including major cities like Chennai, Coimbatore, Salem, Nagercoil, Madurai, Trichy, Tanjore, Bangalore, Vellore, Cuddalore, Erode, Dindigul, Pondy, Nellai, Mumbai, and even Dubai, where a tailored version caters to Tamil readers.
The printing presses of Daily Thanthi churn out an impressive volume each day – exceeding a remarkable count of 1.7 million copies! This staggering figure underscores the newspaper's vast readership. Within its pages, readers find themselves immersed in not only local news but also a comprehensive coverage of events from across India and the world. Beyond news, Daily Thanthi offers a diverse range of content encompassing sports, entertainment, and various other topics of interest. The readership of Daily Thanthi comprises individuals from diverse backgrounds, each with unique preferences and perspectives. To cater to this eclectic audience, the newspaper ensures a curated blend of content that resonates with everyone.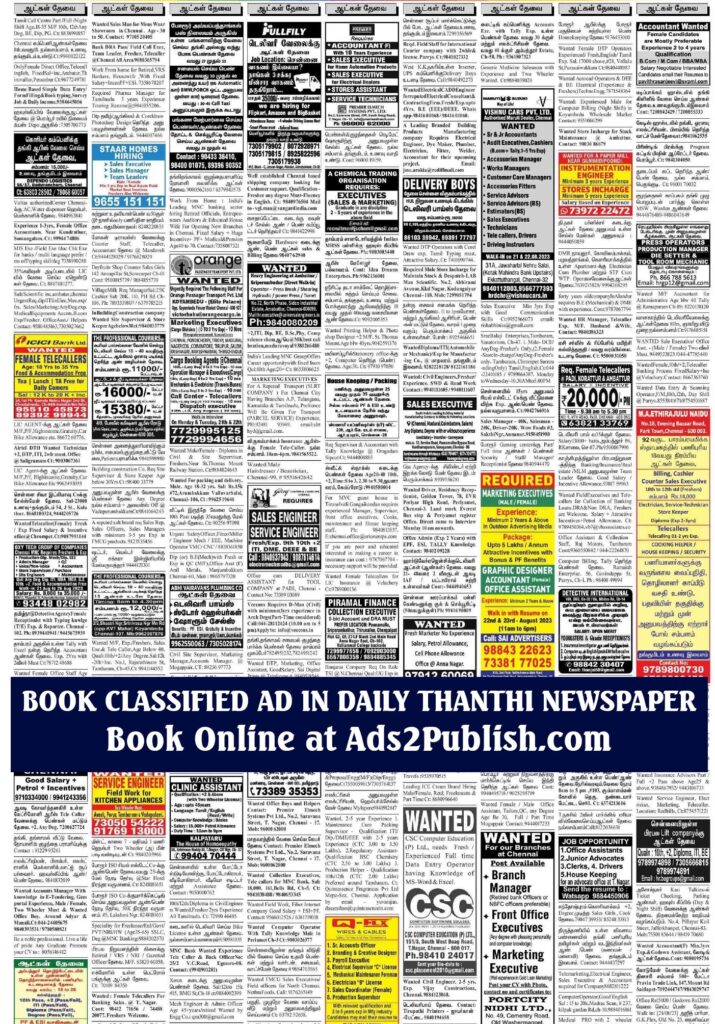 In many Indian households, newspapers occupy an essential role, offering insights into current affairs and knowledge enrichment. Moreover, newspapers serve as an effective platform for advertisements, given their extensive readership.
With Ads2Publish, booking classified ads in Daily Thanthi is now a breeze. Our user-friendly interface, customizable options, and efficient process guarantee a seamless online experience. Say goodbye to the complexities of ad booking – start your journey with Ads2Publish today! Here's a glimpse of the simplified process:
Step 1: Choose Your Classified Ad Category. Select the category that aligns with the nature of your advertisement, be it real estate, employment, services, or any other relevant domain.
Step 2: Select the City or Edition. Specify the city or edition of Daily Thanthi where you want your advertisement to appear, ensuring your message reaches the desired audience effectively.
Step 3: Compose Your Ad, Select Date, and Make Payment. Craft a concise and engaging advertisement, including the necessary details. Proceed to make a secure online payment to finalize the booking.
Ads2publish – Your Partner in Amplifying Reach
This is where Ads2publish steps in as your invaluable ally. With over a decade of experience, Ads2publish is a seasoned player in the realm of advertising. When considering placing an ad in Daily Thanthi, Ads2publish is your go-to source for securing the best rates. This collaboration empowers you to share your message with your intended audience, regardless of their location.
Don't delay, commence Daily Thanthi Classified Ad Booking now with Ads2Publish. Streamlined process for quick and easy online experience. Your message, our platform.