Navigating Opportunities: Deccan Chronicle Classifieds and Your Path to Success
In the ever-evolving landscape of Indian journalism, Deccan Chronicle stands as a beacon of reliable information and insight. Founded in 1938 by Rajagopal Mudaliar, this venerable institution has grown to become the most widely read English newspaper in the southern states of India. Headquartered in Hyderabad, Telangana, its operations are spearheaded by Deccan Chronicle Holdings Limited (DCHL). The newspaper takes its name from the Deccan region of India, where it originates. Deccan Chronicle boasts eight distinct versions in Andhra Pradesh and Telangana, with additional editions in Chennai and Bengaluru.
Each day, Deccan Chronicle fulfills its promise to deliver a wealth of news and information, earning recognition across the length and breadth of India. But Deccan Chronicle doesn't stand alone in its endeavors. It also publishes other distinguished newspapers, including The Asian Age, an English-language publication, and Financial Chronicle, dedicated to the world of finance and business. Additionally, Deccan Chronicle Holdings Limited caters to Telugu readers with Andhra Bhoomi.
For decades, Deccan Chronicle has held its position as a preeminent English newspaper in Hyderabad. It is not merely a publication but a trusted companion, narrating the stories of Telangana, Andhra Pradesh, Tamil Nadu, Karnataka, and Kerala.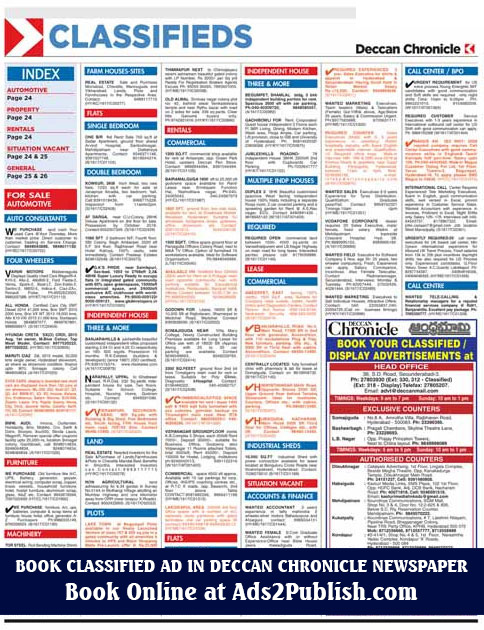 The newspaper's reach is nothing short of astounding, with over 1.45 million South Indian homes receiving it daily. It acts as a messenger, traversing urban sprawls, quaint towns, and every locale in between, connecting with a diverse tapestry of readers.
Envision a grand journey spanning eleven unique destinations, each with its version of Deccan Chronicle. From the bustling streets of Hyderabad to the serene beaches of Vishakapatnam, the vivacious city of Chennai, and the technology hub of Bengaluru, Deccan Chronicle leaves no stone unturned. You can easily find it in Hyderabad, Vijayawada, Rajahmundry, Anantapur, Karimnagar, Nellore, Chennai, Coimbatore, Bengaluru, and Kochi.
Perusing the pages of Deccan Chronicle is not merely a means of staying informed; it's a way to immerse yourself in captivating stories, innovative ideas, and diverse perspectives that paint a vivid picture of South India. It serves as a guiding light, sparking conversations and enriching the lives of people across South India.
Classified ads are undeniably popular due to their affordability and ease of booking, and Ads2publish takes this simplicity to the next level. These ads are meticulously categorized, ensuring that individuals can effortlessly find what they seek without any hassle. When you choose Ads2publish, you not only save money but also streamline your search.
Deccan Chronicle classified ad booking through Ads2publish is a breeze. Here are three straightforward steps to place your ad online:
Choose Your Ad Category: Select the category that best suits your ad, whether it's for real estate, jobs, services, or anything else.
Specify Your City: Let us know the city or edition of Deccan Chronicle where you want your ad to appear, allowing you to target your audience effectively.
Compose Your Ad and Make Payment: Craft a concise and compelling ad with all the necessary details, and securely complete your payment online.
Ads2publish not only simplifies your ad booking experience but also makes it convenient. So, why wait? Reach your target audience effortlessly by booking advertisment in Deccan Chronicle today!
Ads2publish is a leading website for ad bookings, boasting the largest online platform in India with over a decade of experience in advertising. Additionally, you can access the newspaper online and book your classified ads with ease. Ads2publish prides itself on offering competitive prices and the expertise to place ads in the right locations. If you want to connect with the right people, give Deccan Chronicle classifieds a try through Ads2publish!