"Get the Exposure You Need with a Dainik Jagran Advertisement!"
"Get the Exposure You Need with a Dainik Jagran Advertisement!"
Dainik Jagran: A Newspaper with a Remarkable History
Dainik Jagran was born in 1942, a significant year in India's history when the nation was fervently striving for freedom. This Hindi newspaper was founded by the visionary freedom fighter, Late Shri Puran Chandra Gupta, with a simple yet powerful goal: "Create a newspaper that would reflect the free voice of the people." This vision was relevant then, and it continues to guide us today. Even now, as Dainik Jagran plays a crucial role in shaping India's political destiny, our commitment to this vision remains unwavering.
"Growing Opportunities"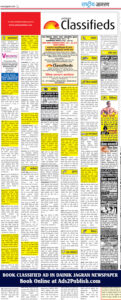 Dainik Jagran's commitment to truth and excellence was carried forward by leaders like Shri Narendra Mohan. Alongside strengthening our editorial stance, he initiated modernization efforts and fostered interaction between the newspaper and its readers. The journey began in Jhansi with the first edition, followed by the launch of the Kanpur and Bhopal editions in 1953 and 1956, respectively. Since then, we've expanded to even more editions, reaching diverse communities.
Reaching Over 68.6 Million Readers
Dainik Jagran boasts a readership of more than 68.6 million people, not limited to Hindi-speaking states but spanning various parts of the country. Every day, in every edition, we deliver the latest local, regional, national, and international news. Our content covers a wide spectrum, including special features, politics, entertainment, business, lifestyle, technology, sports, and automobiles. We also offer dedicated sections for cricket, education, jobs, and careers.
Your Gateway to Targeted Advertising
Dainik Jagran's diverse content ensures there's something for everyone. Placing an  advertisement in Dainik Jagran allows you to connect with your target audience, wherever they may be. Ads2publish offers a hassle-free ad booking platform, making it easy and cost-effective to book your Dainik Jagran ads.
The Power of Newspaper Advertising
Newspapers hold a special place in India's social and cultural life, recognized as trusted sources of comprehensive information on various topics. Booking classified ads in Dainik Jagran newspapers is a smart choice. Ads2publish proudly offers the best Dainik Jagran advertising rates across India.
Ads2publish: Your Advertising Partner
Ads2publish is India's largest online ad booking platform, boasting over a decade of experience in the advertising industry. Our strategic ad placement techniques and a robust network of advertising partners across India ensure you get the best rates for all your advertising needs.
In summary, Dainik Jagran is your gateway to reach a vast audience in India. With Ads2publish, you can easily book your ads and enjoy competitive rates. Expand your reach and make an impact with Dainik Jagran advertising!