Eenadu: A Journey from Humble Beginnings to Andhra Pradesh's Premier Newspaper
In the vibrant and diverse media landscape of Andhra Pradesh, Eenadu stands tall as a testament to the power of perseverance, quality journalism, and unwavering commitment to serving the people. This iconic Telugu-language newspaper has come a long way from its modest beginnings to become the leading newspaper in the state.
The Humble Origins
Eenadu was founded by Ramoji Rao on August 10, 1974, with a vision to provide reliable news and information to the Telugu-speaking population. The newspaper started as a modest four-page publication, but its founders had grand aspirations. They aimed to fill a void in the market for a Telugu newspaper that was not only informative but also deeply connected to the local culture and ethos.
Breaking New Ground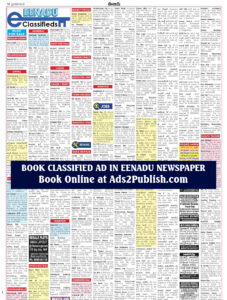 Eenadu's success story was not without its share of challenges. In its early years, it faced stiff competition from established newspapers, but it persevered with a commitment to deliver news that resonated with its readers. The publication was innovative in its approach, introducing several groundbreaking initiatives like district editions, which provided hyper-local news coverage, and a strong focus on regional reporting.
With its headquarters situated in Hyderabad, Telangana, Eenadu reaches its audience through 25 editions. These editions cover key locations such as Hyderabad, Karimnagar, Nizamabad, Khammam, and more in Telangana, as well as Vijayawada, Visakhapatnam, Rajahmundry, Nellore, Chittor, Godavari, Guntur and more in Andhra Pradesh.
Quality Journalism
Eenadu's success can be largely attributed to its unwavering commitment to quality journalism. The newspaper has maintained a high standard of reporting, upholding journalistic ethics and integrity throughout its journey. It has consistently striven to provide balanced and unbiased news to its readers, earning their trust and respect.
Modernization and Technology
As technology evolved, Eenadu embraced change and adapted to the digital era. It expanded its reach through the internet and mobile apps, making news accessible to a wider audience. The newspaper also invested in modern printing techniques and infrastructure, ensuring that it could deliver news with speed and accuracy.
Eenadu Classified Ad Booking: Your Gateway to Success
Booking Classified Advertisement in Eenadu offer the most cost-effective way to advertise in the newspaper. They guarantee the best response for categories such as Property, Jobs, Matrimonial, Services, Vehicles, Buy/Sell, and Name Change Announcements.
 Ready to get noticed? Booking your classified ad in Eenadu Newspaper is a breeze with this user-friendly website. Simply follow these steps:
Choose Your Classified Ad Category: Select the category that best suits your ad, whether it's real estate, jobs, services, or more.
Select the City or Edition: Specify the city or edition of Eenadu where you want your ad to appear, ensuring you reach your desired audience effectively.
Compose Your Ad, Select Date, and Make Payment: Compose your ad with the necessary details, keeping it concise and engaging. Then, proceed to make a secure online payment.
Eenadu offers different types of ads, like regular text ads and eye-catching display ads, which give advertisers lots of choices. That's why advertisers like using this newspaper—they can choose the type of ad that works best for them.
To take the next step and booking advertise in Eenadu, you can now book your ad online through Ads2publish. It's easy to do from anywhere in the country, and there are no extra charges. By advertising in Eenadu with Ads2publish, you can reach more people in Andhra Pradesh and Telangana!