"Gujarat Samachar Advertising: Reaching Your Audience Affordably and Effectively with Ads2publish"
Gujarat Samachar, as its name suggests, is a prominent daily newspaper in the Gujarati language. Established in 1932 by Chhabibhai M. Patel, this newspaper has evolved over the years to become one of the most distinguished names in Gujarati language journalism. It stands as a steadfast choice for countless families in Gujarat, serving as their primary source for daily news, updates from the region, and news from across India and around the globe. Gujarat Samachar holds a distinguished position as one of the most widely read newspapers in the state, with its headquarters in Ahmedabad and a branch office in Surat, ensuring its wide circulation throughout Gujarat.
Every day, Gujarat Samachar reaches an impressive circulation of over 4.6 million copies, delivering comprehensive coverage of local, regional, national, and international news to its loyal readers. Beyond news, the newspaper offers a rich tapestry of content encompassing entertainment, sports, business, NRI news, astrology, health, lifestyle, fashion, science, technology, and dedicated sections for editorials and opinions. Gujarat Samachar boasts multiple editions published from key locations in Gujarat, including Ahmedabad, Vadodara, Surat, Rajkot, Bhavnagar, Mumbai, Mehsana, Bhuj, and even an edition from New York in the United States!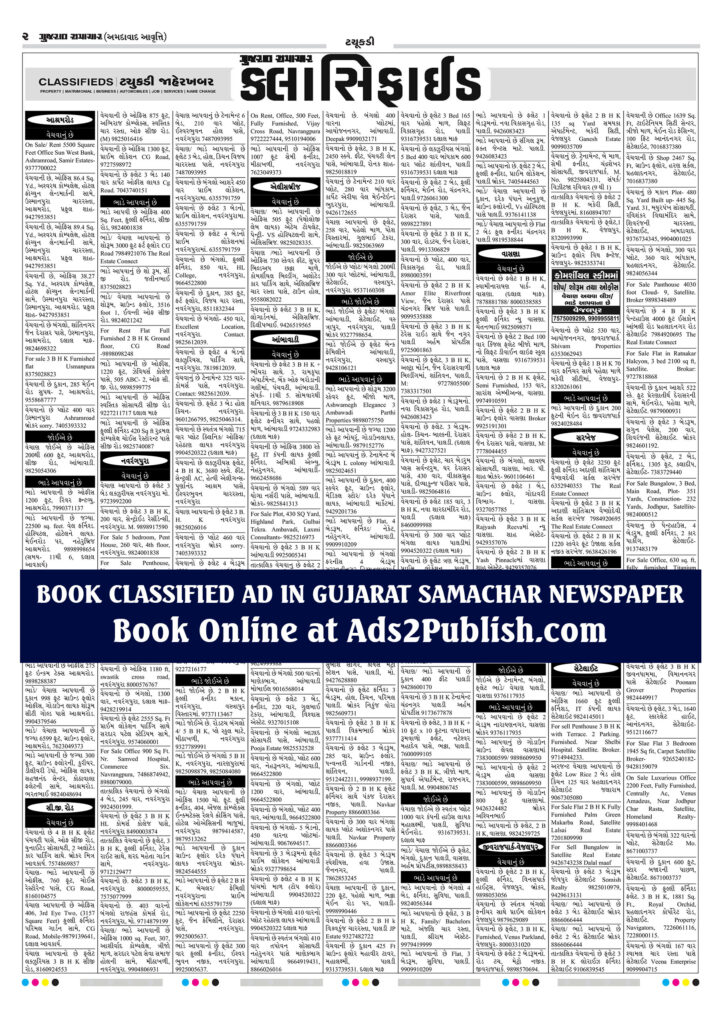 Given its extensive reach, Gujarat Samachar stands as a highly recommended choice for advertisers. Newspapers play an integral role in the social and cultural fabric of Indian society, making them an ideal platform to capture the attention of a diverse audience. Classified ads, in particular, have gained immense popularity in the advertising landscape. Whether you intend to book a classified text ad or a classified display ad, these formats are favored for their simplicity in booking and cost-effectiveness.
Classified ads offer not only a budget-friendly option but also a remarkably effective way to convey your message to your desired audience, regardless of their geographical location. This makes Gujarat Samachar an excellent medium for your advertising needs.
Gujarat Samachar classified ad booking has never been more convenient. Follow these simple steps for a hassle-free online booking experience:
Step 1: Choose Your Classified Ad Category – Select the category that best fits your ad, whether it's related to real estate, jobs, services, or more.
Step 2: Select the City or Edition – Specify the city or edition of Gujarat Samachar where you want your ad to appear, ensuring precise audience targeting.
Step 3: Compose Your Ad, Select Date, and Make Payment – Compose your ad with the necessary details, keeping it concise and engaging. Then, proceed to make a secure online payment.
When you're in search of the best Gujarat Samachar ad rates, turn to Ads2publish. We offer an exceptional ad booking experience, ensuring that your advertisements reach your target audience in a cost-effective and efficient manner. As India's largest self-service online ad booking platform, Ads2publish is dedicated to helping you achieve the visibility you desire. Don't hesitate – book your newspaper classified advertisement in Gujarat Samachar today! Your message deserves to shine brightly in the heart of Gujarat.